The Big Wrap (Christmas Giving Program)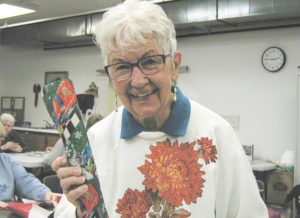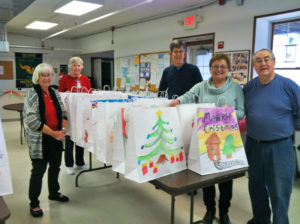 For thirty one years, we have gathered our volunteers and members on a Tuesday afternoon in early December to wrap Christmas gifts for seniors who are alone or in need. We call this our Christmas Giving program.
The hands of friends make the Christmas spirit come alive, wrapping over 2,470 presents in a matter of a few hours. We thank each and everyone who stops by with their own scissors, gives a crash course in folding corners on odd-shaped packages while spreading good cheer as cartons of gifts get emptied and wrapped. 130 Dennis seniors receive their Christmas gifts delivered by the Friends' Board of Directors and members of Volunteers in Police Service of the Dennis Police Department the Saturday morning following The Big Wrap. These Christmas bags (which hold all the presents) have traditionally been decorated by the Dennis Girl Scouts, and this year, by students at the Dennis Union Church.
If you are interested in joining us for The Big Wrap on Tuesday, December 5, 2017, please call our office at (508) 385-5376.
The George DeShaw Memorial Golf Tournament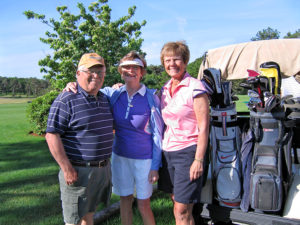 This is our major fundraiser for the year and we hold it, each and every year in June at the Dennis Highlands golf course. In 2015 we decided to honor the founder of this tournament, George DeShaw, who began it over 25 years ago, as one of our early Board members. This year's tournament will be held on Monday, June 12th. There will be an 8:00 am shotgun, followed by lunch, cash awards and prizes. We encourage you to support us by playing in the tournament or becoming a valued Tournament, Tee or Gift sponsor. To do so, call us at (508) 385-5376. If you would like to play in the tournament, download the form below.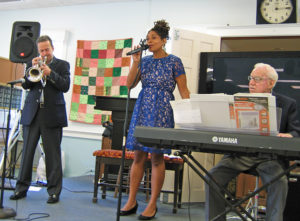 In 2013, we celebrated the beginning of summer with our first Jazz in June for seniors, their families and friends, not only in Dennis, but on the Cape. When we filled the room to capacity in Howell Hall (named after our first president, Oren G. Howell), and were told "this is more fun than I've had in years," we knew this would become a Friends' annual tradition. We continue to invite the iconic Bob Hayes Band and Cerise, serving a summer luncheon to all our guests, along with a raffle of prizes. Since this event gets booked early, please call Marie at (508) 385-5376 to reserve your seats for Saturday, June 3rd from 12-2:00 pm.